Offices today run on the speed of technology, and being competitive means having the right systems and equipment.  High Definition Audio Video, Inc. understands how all the pieces fit together in a custom computer network cabling project.
Serving the greater Tampa Bay region, we offer a variety of data wiring services for everything from small offices all the way up to sweeping, multi-floor commercial buildings.  Our job is to put you in a position that allows for truly seamless activity among all workstations and operators.  We use fiber optics, cat5e and cat6 wiring to connect data centers or closet server stacks to all computers, A/V components, closed circuit and surveillance technology and all other systems.
HDAV is ready to meet all your Computer Network Wiring Needs
·      Complete design, installation and maintenance of LAN wiring infrastructures
·      Intercom system installation
·      Conference room wiring
·      Voice cabling/VoIP wiring
·      Telecommunications systems
·      Wire management
·      Certified testing
Experience and knowledge that makes the difference
Our technicians and engineers have wide experience with all network media and new media components and know how to achieve a streamlined and efficient system that will save you money and raise productivity company-wide.
We consult directly with IT supervisors for low voltage wiring projects in established commercial spaces, and we also work side by side with general contractors, electricians and property managers to perform original computer network wiring and data cabling installations for new facilities.
Possibly the most important benefit we bring to our clients is a thorough understanding of the latest technology and how it is used to drive business.  As consultants, we can sit down with you and look at all the components necessary to meet your company's goals.  We'll explain how things work, what they do and the pros and cons of various system features.  Whether you need a simple upgrade, a large overhaul or an entirely new networking system, HDAV is ready to go to work.
When we meet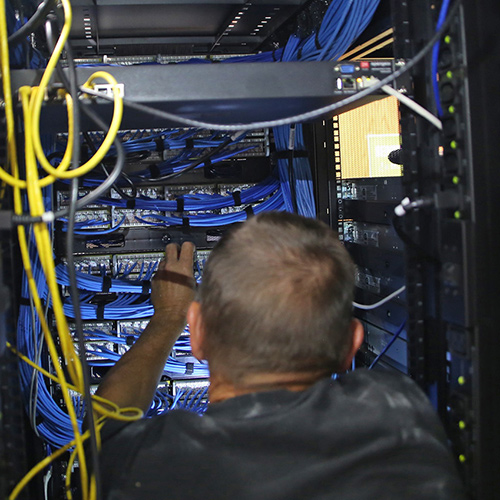 Our initial meetings will focus on assessing your current needs as well as your projected needs into the future.  This is an important first step, because we want to make sure that the system we deliver will be robust and flexible enough to expand in the directions your business takes in the coming years.
After knowing where you are and where you want to be, we can then get to work designing optimal solutions for your needs at the best possible price.
If it's time to take a look at how your data network configuration could serve you better, the experts at
High Definition Audio Video, Inc are standing by to help with computer network wiring services and complete office cabling to bring your business up to speed with the latest and most productive technologies.
Call us today and tell us about your network wiring and low voltage cabling needs.
High Definition Audio Video, Inc
We build systems and relationships
 (813) 321-3110