When it comes to televisions, everybody has an ideal viewing experience.  For many of us, that means flat screen.  The technology that builds today's flat screen televisions is a gigantic step up from the older, bulkier TVs of yesterday.  And every year, the top brands infuse their products with even better clarity, performance and ease of use.
Are you ready to move up to a flat screen TV or purchase one that's better than the set you're using now?  Are you ready to transform one of your rooms into a fantastic audio/visual experience?  High Definition Audio Video, Inc provides professional flat screen mounting services for any model, any size.  And you'll be pleased to know you can get your new television through us and not spend a penny more than you would at the "typical" TV retailer.
Bypass the big boxes
Avoid the hassle, the crowds and the lines of big retailers by ordering your new flat screen right here, where we'll match any price.  HDAV is an authorized dealer for all major brands, and we can offer you a more intimate shopping experience with sales staff who know their products inside and out.
The purchase of a flat screen TV is an important decision, so we want to make sure you know all your options: the size and features that will best suit your needs; external sound system choices; the different warranty specs; the type of installation necessary for your model; and other particulars.
Go with a professional TV installer
In the old days, you just lugged your big, square TV home and found some kind of surface it could fit on.  With today's flat screens, TV installation takes on a much bigger role.  Our certified team of licensed audio/visual and electrical engineers are experts in flat screen mounting with articulating mounts, ceiling mounts, tilt mounts or flush mounts.  We'll place your TV right where you want it, and we'll do it safely, according to the most exacting installation standards.
If you'll be adding speakers in various areas of the room, we can help you determine the best brands and configuration to significantly enhance your television viewing experience.  We'll then wire the entire system so that it's safe, secure and gives optimal performance.
No matter the size of the job – a basic flat screen TV installation to a fully decked home theater system – it pays to have the work executed by professionals who understand the products and the processes.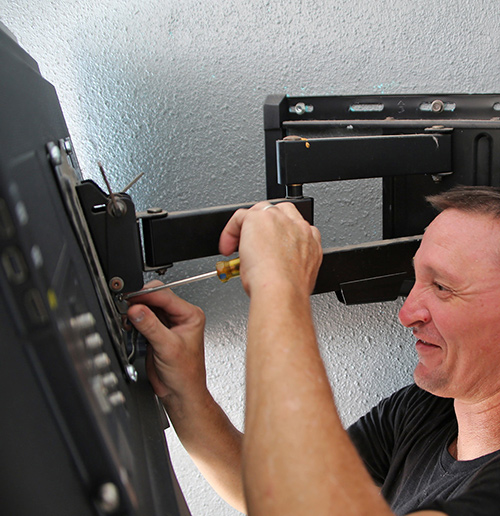 How long will this take?
As the preferred professional TV installer in the Tampa Bay, St. Petersburg and Sarasota areas, we set up a lot of television systems.  We have a streamlined installation process that rarely takes more than two hours.  You buy your television, have it delivered (for free), and we'll have it installed and working properly in record time.
Any size, any brand, any model.  High Definition Audio Video, Inc is licensed and insured to deliver the very best in flat screen TV installations and service.  Bypass the big box stores and crafty salespeople, and visit the professionals who care about you and want you to be fully satisfied.
Call us today and tell us what kind of flat screen TV experience you're looking for.
 High Definition Audio Video, Inc
We build systems and relationships
(813) 321-3110