You'll never think of movies and TV the same after you've viewed your favorites in your own fully equipped home theater.  Anything you can watch on a screen can be watched with so much more clarity and enjoyment when it's bursting out of a big screen in your dedicated viewing room.
High Definition Audio Video, Inc has what you need to create exactly what you have in mind:
·      Audio/video installation
·      Surround sound installation
·      Flat panel TV installation
·      Projection system installation
Our team of certified technicians and design engineers start by determining your specific needs and requirements.  Are you looking to convert a room in your home into a simple, intimate gathering place for family and occasional friends to check out the latest films?  Or do you desire a total conversion with movie theater seating, heated recliners, built-in sound transducers, a genuine ticket booth, movie posters and, of course, a giant flat panel screen?
However you can dream it, we can build it.  We sell and install our home theater systems, which means we know how every component works in conjunction with all the other components to bring you years of pleasure and enjoyment in the comfort of your own home.
From design to reality
In designing your home theater, we focus on several key elements:
·      Planning for the right electronics from the best names in the business
·      Developing a strategy for the positioning of external speakers
·      Ensuring that the system's cooling needs will be met
·      Designing a lighting scheme for just the right effect
·      Understanding the acoustics of the room and modifying if necessary and where possible
·      Creating an awesome floor plan for seating and other furnishings and amenities
With all this in place, it's time to begin putting it together.  The HDAV installation team consists of individuals who live on the cutting edge of home theater technology and are experts in the specs and use of every component that will be included in your system.
An investment that will pay off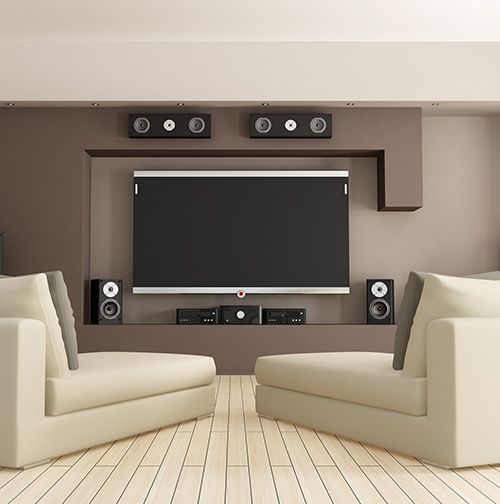 Whether we're talking projection home theater systems or standard flat screen TV functionality, having a theater in your home is an investment.  As such, you should be completely satisfied with every single component as well as the electronics and wiring, speaker positioning, any seating you might have chosen and the overall look and feel of the room.  And this is exactly what we deliver on every job.
A stunning home theater brings a level of excitement and enjoyment that's hard to beat with any other "home-improvement" project.  Not only that, when it's time to sell your home, you'll find that many buyers are completely blown away by a plush home theater in a house they're imagining living in.
From home theater installation and audio/video installation to surround sound installation and flat panel TV installation, HDAV has the products, design savvy and technical expertise to bring lights, camera and action to your home.
Call us today and tell us what you want in a brand new home theater.
High Definition Audio Video, Inc
We build systems and relationships
 (813) 321-3110