Many people are thinking about protecting their home.  If you're one of them, do you know about the benefits of home security cameras and closed circuit television systems?
High Definition Audio Video, Inc can strategically install security cameras for businesses and residences, giving you comprehensive, 24-hour surveillance of the interior, exterior and perimeter of your property.
Our technicians perform security camera installation tailored to your desires.  After installation, you'll be able to monitor activity on your property in real-time, whether you're within the structure or in some other part of the world, watching it on your phone.
Comprehensive monitoring
Depending on the settings you choose, you can get live video streams of all entrance areas and immediately know who's at your door.  The inside of your home also can be monitored around the clock – if you hear a noise, you'll instantly know what's happening before going to investigate it. 
 Home security cameras often are installed near pools or areas where children play for peace of mind.  Add perimeter surveillance, and you have a system that's virtually impossible to penetrate.
Getting your video surveillance data is a snap: you can view it from the touch screen that's part of the system or from your iPhone or other smart mobile device.  All video is stored digitally, letting you select what you want to see and then play it back at your convenience.
Security camera installation – camera types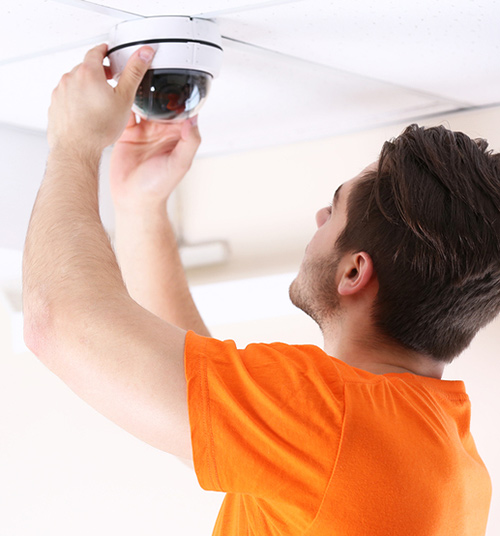 A huge selection of different camera shapes, sizes and functionalities are available with a modern CCTV installation.  Four of the more popular styles include:
Pan-tilt-zoom cameras: These cameras typically are dome modules installed in the ceiling.  They provide 360-degree surveillance with true-to-life video imagery.  You can program this style of camera to point and record exactly how you want it.  The video is high definition, and the sound quality is excellent.  On top of that, they're stylish and fit easily into most any décor.
Covert cameras: As the name implies, these cameras are designed to be hidden within normal, everyday objects.  They're small and powerful and deliver consistent performance.  When you have a strategic placement of covert security cameras in your home or place of business, intruders will be completely unaware that they're being watched.
Long-range cameras: A long-range surveillance camera produces clear video representation of things and areas hundreds of feet away from its mounting point.  It's perfect for monitoring long driveways, large front yards and back yards, parking lots, construction sites and any other area where standard security cameras aren't powerful enough to give you the details you need.
Nanny cams: Originally developed to monitor the activities of nannies within a home, what we call "nanny cams" today have a broader use.  They're essentially covert cameras set up in areas where home caregivers, residential staff, contract workers and others do their jobs.  As with all surveillance cameras, the video shot from a nanny cam is easy to view on a touch screen or smart device, with all video data being saved for viewing at your convenience.
When you're serious aboutyour safety, rely on Tampa Bay's surveillance camera installation experts, High Definition Audio Video, Inc, to provide the equipment and expertise you need.
Call us today and tell us about your home or business security needs.
High Definition Audio Video, Inc
We build systems and relationships